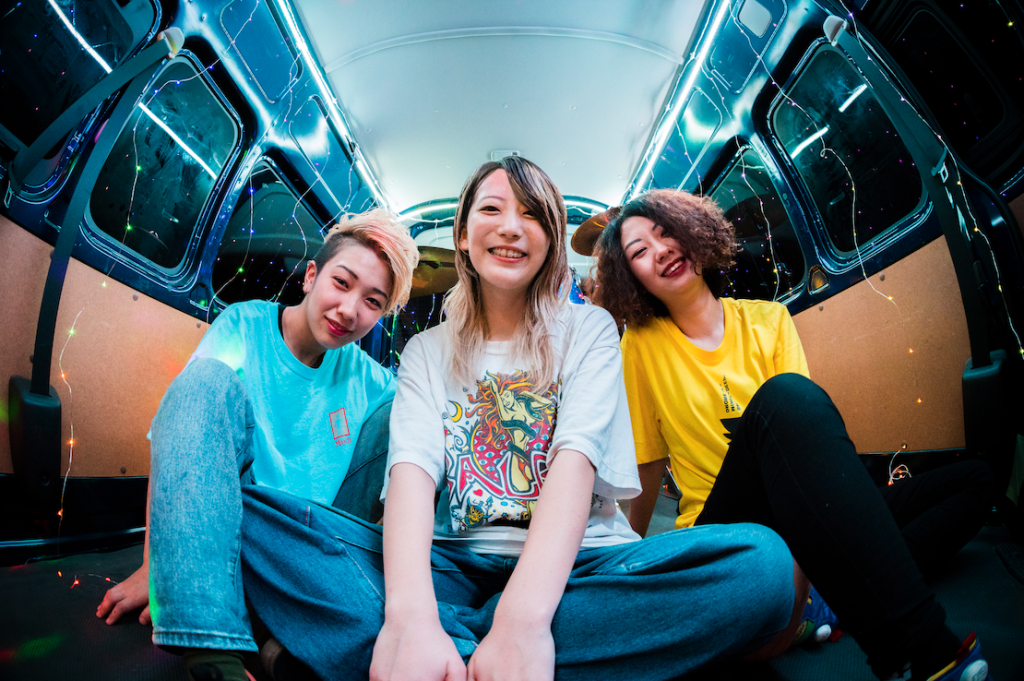 ちょす(Ba)/ゆきの(Vo,Gt)/はす(Dr)
東京都府中市を拠点に活動している3ピースガールズバンド!
当初はバックホーンやDOESなどのコピーバンドであったが、2015年からボーカルゆきのがカートコバーンに出会い覚醒!
オリジナル楽曲を中心にライブを行う。
2016年より拠点であるライブハウス、府中フライトの強化指定バンドとなり、月平均5本程度のペースでツアーバンドなどのサポートを行う。
2016年スタジオペンタ主催『スクールズアウト』の予選を勝ち抜き決勝トーナメントに進むも、ゆきのの高校中退がバレ失格になる。
めげずに府中フライト主催『キッズ・オールライト』に参加し、優勝する。
その秋には台湾音楽関係者に盛大に気に入られ、冗談かと思ったら本気でフェスに誘われ学校を休み台湾でライブを行う。
2017年夏に台湾でツアー組むからと本人の意図していないワールドワイドな展開に驚きすくみ上がっている。
心につきささる歌詞と思春期の今しか出せない感情や攻撃性。
突然ライブで泣く。叫ぶ。
親戚の子供も怖くて泣く。
本人たちも次に何を起こすかわからない、『今』を全力でライブにぶつけるそのスタイルはバンドコンセプトでもある
『感情爆発!!』伝わるじゃなくて、伝えます!!
Maxn is 3 piece girls band by Yukino (Vo & G), Chosu (B & Cho), Hasu (Dr&Cho), based in Fuchu, Tokyo Japan.
Initially Maxn was a cover band, playing songs from THE BACK HORN and DOES, but in 2015, Yukino (Vo & G) had a fateful and awakening event, her meeting music from Kurt Cobain of Nirvana. This event is a start of Maxn's original music.
In 2016, Maxn participated the music competition "SCHOOLS OUT" held by Studio Penta, and won to the final, but Maxn was disqualified due to Yukino's dropout from her high school.
In fall of 2016, Taiwanese Entertainment personnel found Maxn very exciting and invited them to a Music Festival in Taiwan, BEASTIE ROCK. At first they thought it was a joke, but it was a serious offer. Maxn skipped the school and performed live in Taiwanese festival.
Lyrics piercing hearts
Feeling and Aggression of Adolescence
Shout!
Cry!
Never know what will happen next. NOW at full force.
That's Maxn's style.
"Outburst of Emotion!!"
We will not just tell, but convey a message!
MAXN Discography
Self-produced first album "MADA KON NA" on 3/10/2017
Second mini album "GOUON" on 5/23/2018
Third mini album "Breed" on 8/26/2019